Leadership
Gyeongin National University of Education (GINUE)

is a place of learning which inspires, ignites imagination and instills a love of learning and teaching.
A great teacher is like a candle -

it consumes itself to light the way for others.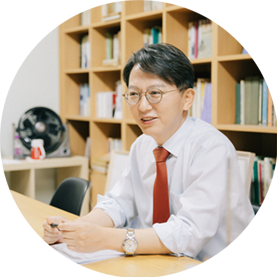 Welcome to the Gyeongin National University of Education's online community.
GINUE was founded in 1946 as Gyeonggi Provincial Gaeseong Normal School and its current name was adopted in 2003. GINUE has grown into an outstanding primary education university and education research institution with a campus in Incheon city and the establishment of Gyeonggi campus in 2005.
GINUE was founded on the ideals of professionalism in education, academic excellence, love and respect for all, and service to society and the world community.
Based on these ideals, GINUE is dedicated to educating students who through example and teaching practices contribute significantly to society.
In this technological age GINUE provides students with the resources and support they need to grow as individuals competent as teachers and humanitarians. Professors and researchers, instructors, and all university personnel work tirelessly together to maximize students learning and teaching potential.
Only through community support and encouragement can GINUE's ideals continue to have a significant impact on society and the world.
Respectfully,
President Dr. Dae-Hyuk KO